7 days from September 11
from 09-09-2023 to 16-09-2023
Free children, All Inclusive, -5%
September 2021
7 days from September 11
In addition,book now and get afurther 5% discounton the already advantageous weekly packages!
All this always and exclusively inAll Inclusive Formula andFree Children!
We accept the Holiday Bonus
Prices are in All Inclusive formula and include:
full board with buffet catering service(overnight stay, breakfast with a wide choice of sweet and savoury food, lunch and dinner with varied and carefully prepared menus, accompanied by vegetables, salads and appetizers, fruit and desserts)
possibility to have lunch at the private beach "Gallia Beach".(service at no extra cost, to be booked day by day, subject to availability)
unlimited drinks on tap during meals(water, wine, cola and orangeade)
soft drinks on tap(water, orangeade, cola and tea), available at the hotel bar full time
open bar in the hotel all day long, reserved for all Costa Vacanze Card Club* holders (until the credit on the card is exhausted). Theopen bar includes: coffee, soft drinks and bottled spirits, bottled wine, beer, canned drinks
soft-ice cream: ice cream for adults and children available in the hotel all day long
beach service at the hotel's private lido "Gallia Beach".(one umbrella and two sunbeds for each room booked)
a bag with two beach towels(for a minimum stay of 4 days) for each room booked
use ofthree swimming pools, one of which is heated to 24 degrees, one equipped with whirlpool, diving board and counter-current swimming and one for children
use ofthe Wellness Area with whirlpool and sauna (except for possible restrictions by Covid-19)
use of theFitness Area with gym(except for possible restrictions by Covid-19)
entertainment
welcome drink
weeklyguestpartyin the hotel withbuffet of cakes and sparkling wine and typical Romagna dinner
freebicycles for adults and children for the first 3 hours
air conditioning
parking
*If you do not have the Costa Vacanze Card Club, you will be given a credit of €30 to spend at the hotel bar when you check in. One card can be issued per room (promotion valid for a minimum stay of 7 nights).
Family services reserved for our younger guests
in the restaurant room, crockery, glasses, cutlery, plates, placemats and high chairs suitable for children
cots in the room, on request and at no extra cost
availability of the chef to prepare vegetable broths and vegetable soups with potatoes, carrots and zucchini without salt. In addition, if desired, mothers can agree directly with the restaurant on the menu and the time to feed their children.
colorful and livelybaby roomwith various games
baby bath tubs and bottle warmers, upon request and at no extra cost
two outdoor areas dedicated to children, equipped with various games, one in front of the hotel and one on the beach
bicycles with high chairs
bicycles for childrenaged 6-8 with approved helmets
miniclub
afternoon snack
Bimbo Fruit Drinks: all day long in the hotel, bananito, peschita and strawberry. Fresh or room-temperature fruit drinks, without colorants, designed for your child. The drinks are dispensed on tap from dispensers whose size, height, safety and ergonomics have been designed to meet the needs of our young guests!
Ferdy,so youdon't get lost! Free, for all our young guests up to 12 years old, the Ferdy bracelet with the name and number of the hotel on it, so that no one gets lost and everyone goes home!
small goodbye gift: a Travel Bag to be opened strictly in the car during the journey home!
N.B.:The way some services are managed and used may be determined by possible restrictions and provisions by Covid-19. In addition, the ability to use some services, such as the use of the Wellness Area, swimming pools and gym, is determined by possible restrictions and provisions by Covid-19.
Why choose Hotel Globus for your holidays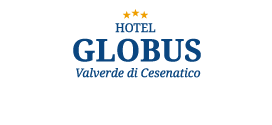 Contact us for a personalized quote